May 1st is the start of my favorite month – It's #NationalBurgerMonth – which means the annual burger party STARTS TODAY! There are 100 new burger recipes coming and 30 more Keto inspired ones on Instagram! — > be sure to follow along with #burgermonth or hop over to the site and subscribe so that you get every one right to your inbox.
THE PRIZES! Yes, the ULTIMATE BURGER GRILLING GIVEAWAY happens all month long –
We have prizes this year from Cabot Creamery Co-operative, Char-Griller, Crow Canyon Home Enamelware, Melissa's Produce, Porter Road, Red Duck Foods, Spiceology and Western Wood, Inc.
https://www.facebook.com/notes/burger-month-2019/rafflecopter/462276997843992/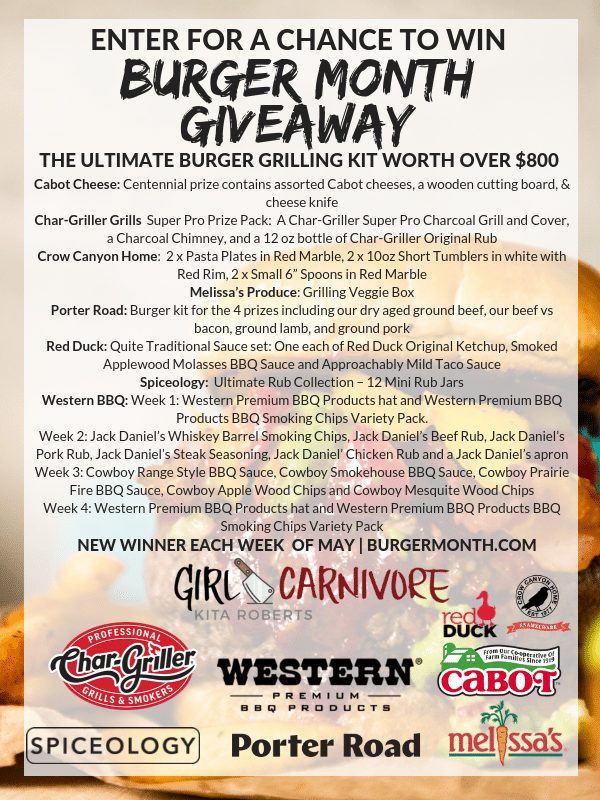 2019 BURGER MONTH PRIZES:
Cabot Cheese:
Cabot Gift box: Cabot Creamery Centennial prize contains assorted Cabot cheeses, a wooden cutting board, and cheese knife
Super Pro Prize Packs including: A Char-Griller Super Pro Charcoal Grill and Cover, a Charcoal Chimney, and a 12 oz bottle of Char-Griller Original Rub
Crow Canyon Home:
2 x Pasta Plates in Red Marble, 2 x 10oz Short Tumblers in white with Red Rim, 2 x Small 6" Spoons in Red Marble
Melissa's Produce:
Grilling Veggie Box
Porter Road:
Burger kit for the 4 prizes including our dry aged ground beef, our beef vs bacon, ground lamb, and ground pork
Red Duck :
Quite Traditional Sauce set: One each of Red Duck Original Ketchup, Smoked Applewood Molasses BBQ Sauce and Approachably Mild Taco Sauce
Spiceology:
Ultimate Rub Collection – 12 Mini Rub Jars
Western BBQ :
Week 1: Western Premium BBQ Products hat and Western Premium BBQ Products BBQ Smoking Chips Variety Pack.
Week 2: Jack Daniel's Whiskey Barrel Smoking Chips, Jack Daniel's Beef Rub, Jack Daniel's Pork Rub, Jack Daniel's Steak Seasoning, Jack Daniel' Chicken Rub and a Jack Daniel's apron
Week 3: Cowboy Range Style BBQ Sauce, Cowboy Smokehouse BBQ Sauce, Cowboy Prairie Fire BBQ Sauce, Cowboy Apple Wood Chips and Cowboy Mesquite Wood Chips
Week 4: Western Premium BBQ Products hat and Western Premium BBQ Products BBQ Smoking Chips Variety Pack

The following bloggers are participating in Burger Month. Please make sure you check their pages for burger recipes. I will be sharing as many burgers as possible on my page.
🍔 Girl Carnivore 🍔 A Kitchen Hoor's Adventures 🍔 A Simple Pantry 🍔 Abra's Kitchen 🍔 AcadiaTwo's Kitchen Antics 🍔 An Affair from the Heart 🍔 Bakersbeans 🍔 Betsi's World 🍔Caroline's Cooking 🍔 Cindy's Recipes and Writings 🍔 City Living Boston 🍔 Cluttercafe 🍔 Cooking With Carlee 🍔 Convos with Karen 🍔Daily Dish Recipes 🍔 Dance Around The Kitchen 🍔 Dixie Chik Cooks 🍔 Dizzy Busy and Hungry 🍔 Doodlecraft 🍔 Everyday Eileen 🍔 Family Around the Table 🍔 Family Food on the Table 🍔 Family Spice 🍔Farmwife Feeds 🍔Food Above Gold 🍔 For the Love of Food 🍔 Grillax.com 🍔 Grilling Montana 🍔 Grumpy's Honeybunch 🍔 Hezzi-D's Books and Cooks 🍔 Honeybunch Hunts 🍔 HORNS BBQ 🍔 Intelligent Domestications 🍔 It Is a Keeper 🍔 Jolene's Recipe Journal 🍔 Jonesin For Taste 🍔 Juggling Act Mama 🍔 Karen's Kitchen Stories 🍔 Kate's Recipe Box 🍔 Krazy Kitchen Mom 🍔 Life Anchored 🍔 Life of a Ginger 🍔 Mildly Meandering 🍔 Miss in the KItchen 🍔 Palatable Pastime 🍔 Pastry Chef Online 🍔 Perspective Portions 🍔 Plowing Through Life 🍔 PNW Eats 🍔 Pook's Pantry 🍔 Real Life With Dad 🍔 Sarah's Cucina Bella 🍔 Seduction In The Kitchen 🍔 Simple and Savory 🍔 Souffle Bombay 🍔 Spiced 🍔 Spoonabilities 🍔 Strawberry Blondie Kitchen 🍔 SueBee Homemaker 🍔 Sumptuous Spoonfuls 🍔 Sweet ReciPeas 🍔 Swirls of Flavor 🍔 Take Two Tapas 🍔 Tampa Cake Girl 🍔 Taste And See 🍔 The Baking Fairy 🍔 The Beard and The Baker 🍔 The Complete Savorist 🍔 The Crumby Kitchen 🍔 The Heritage Cookbook Project 🍔 The Keto Guy 🍔 The Redhead Baker 🍔 The Rowdy Baker 🍔 The Schmidty Wife 🍔 The Shirley Journey 🍔 The Spiffy Cookie 🍔 This Farm Girl Cooks 🍔 Thyme for Cocktails 🍔 We are not Martha 🍔 Well Fed Baker 🍔 West Via Midwest 🍔 Who Needs A Cape? 🍔 Wildflour's Cottage Kitchen 🍔 Wok & Skillet 🍔